Today Dream Builder Studios is proud to unveil the next entry into the Strike Wing franchise: Strike Wing Planetfall.
Taking cues from market research, over half a century of combined team game development experience as well as fan requests we're proud to add this new entry into our simulation portfolio.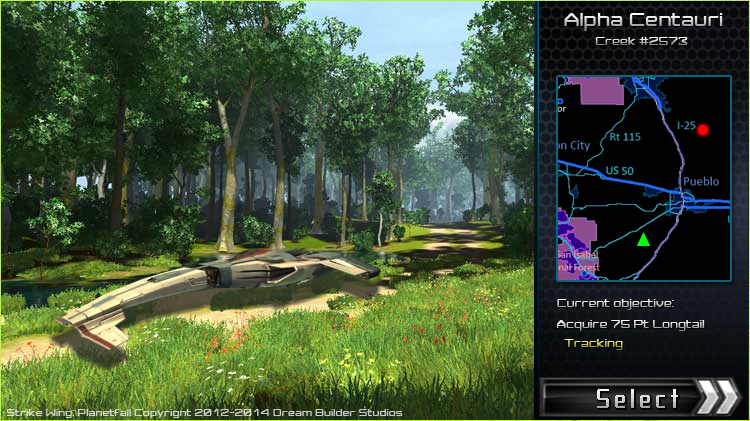 "Strike Wing Planetfall will take space combat to the planet's surface in a ground breaking experience."
Alexander Norris
DBS CO
Explore the lush alien landscapes of Alpha Centauri Prime, the first world colonized by Earth settlers. Experience planetary life on the frontier as never before seen in a space combat simulation.
The game features:
Lush landscapes rendered in painstaking detail.
Towns and cities bustling with activity and friendly NPCs.
Dynamically generated and photo-realistic alien flora and fauna (from small animals like beavers to large game).
Fight and explore on the planet's surface in 3rd and 1st person.
Trade via our innovative Interstellar Accord Protocols with NPCs and real players.
Dozens of extra activities such as sports (tennis, baseball or curling), hunting, fishing – all simulated in realistic low-gravity.
All gameplay elements include both real-time and turn-based play modes.
A full planet at your fingertips re-created after detailed astronomical data.
And more!
Strike Wing Planetfall will be available on iOS, Android and Windows Phone 8 platforms later this year. Pricing to be announced.